Along with thousands of other NBA fans, I tuned in on Thursday night to the NBA draft to see which talented prospect my team selected, hoping and praying that draft night would open up a new era of success and promise for my team. And along with all other NBA fans and personalities, I have an opinion on the events that transpired just a few nights ago.
So without further ado, here are my NBA Draft superlatives for the 2015 season.
BEST PICK OF THE NIGHT:
Justice Winslow SF Duke, #10 Miami Heat. The consensus for the best value pick in the draft. It would not have surprised me if Winslow had gone as high as the number four pick in the draft, but a slide to number ten to a Heat team that underperformed due to injuries late in the '14-'15 season? Unthinkable. Winslow has the opportunity to become a top five player in this draft, and has real NBA skill. As Chad Ford discussed on a Grantland podcast the day after the draft, "Stanley Johnson talks the talk and Justice Winslow walks the walk". Winslow is the real deal. The Heat look like a dangerous team headed into a weak Eastern Conference, and a talented all-around player like Winslow gives the second unit a much needed boost, while under the direction of an excellent coach and proven leader in Pat Riley. Surrounded by veteran talent to learn from and practice with, Winslow is primed for success in his rookie season and beyond.
Runner Up:
Emmanuel Mudiay PG China, #7 Denver Nuggets. The Nuggets received the runaway best prospect before the college basketball season this year. He gained valuable experience in China and got much stronger overseas. His game did not regress, which does not explain the drop on many teams' draft boards in favor of Russell who spent the year very much in the media spotlight. If Mudiay had played at SMU this year, he very well could have been the #2 pick over Russell on Thursday. Great pick for the Nuggets. We'll get to this selection later as well.
Honorable Mention:
Rashad Vaughn SG UNLV- Bucks #17
Bobby Portis PF Arkansas- Bulls #22
R.J. Hunter SG Georgia State- Celtics #28
Montrezl Harrell PF Louisville- Rockets #32
WORST PICK OF THE NIGHT:
Willie Cauley-Stein C Kentucky #6 Sacramento Kings. In a last effort to convince Boogie Cousins to return to Sac-town, the Kings front office selected the defensive talent out of Kentucky. Cauley-Stein is an incredible defender. He can guard any position and can protect the paint as well as defend the pick-and-roll at an elite level. Unfortunately, he cannot do anything else well. He is unable to do anything productive on offense. Along with his difficulty on the offensive end, WCS has always struggled with the off-court aspect of basketball. He is an unpredictable personality that will most certainly notmesh perfectly with the likes of Boogie, Vivek, George Karl, and possibly Rondo… This has the makings of a disaster. It is reported that WCS and Boogie have some sort of relationship together, but we all witnessed what happened when the Heat chose Shabazz Napier in a last attempt to convince Lebron to stay in the South Beach (not that Shabazz has been a bad player). This just seems likea toxic move for a franchise that is toxic in nature. This decision is also worse considering that the likes of Mudiay and Winslow were still on the board.
Runner Up:
Frank Kaminsky C Wisconsin, #9 Charlotte Hornets. This is only a bad pick because of who was available at the slot. The Hornets were clearly set on the three-point shooting big man from Wisconsin in the draft, but when Justice Winslow dropped into Michael Jordan's lap at number 9, they had the chance to select a future star. I understand why they made the pick (they had no one to spread the floor after McRoberts left) but I still think you take Winslow and make it work. Nothing against Kaminsky, I just do not see him as a star in this league. But he is an interesting character.
Honorable Mention:
Larry Nance Jr. F Wyoming- #27 Lakers
Stanley Johnson SF Arizona- #8 Detroit
Myles Turner C Texas- #11 Pacers
BEST FIT:
Emmanuel Mudiay. Mudiay makes another appearance on the NBA draft accolades list winning the best fit award. With uncertainty surrounding Ty Lawson's status with the team and a youth resurgence led by Jusuf Nurkic, Faried, and Gary Harris, Mudiay will likely enter the '15-'16 season as a starting point guard for a team with low expectations for post-season success. He will be able to put his athleticism on full display on a team that loves to run in transition and push the tempo. He still has some problems with his shot, but I think that he fits in great with this young core on the Nuggets and really has an opportunity to succeed. They may not be the best team in the West next season, but it is a great landing spot for the young PG that played in China.
Runner Up:
Karl-Anthony Towns C Kentucky, #1 Timberwolves. With the first pick in the NBA draft, the Timberwolves not only got the best player in the draft, but also filled a gaping hole in the roster. The Wolves desperately need a defensive presence in the paint that can protect the rim as well as spread the floor on the offensive end. Towns fits alongside the young core of talented athletes on the Wolves roster and makes Minnesota into one of the most exciting young teams in the NBA. Towns could be the starter in Minnesota on day one, but he also has time to learn from Garnett, who will gladly teach him what it is to be a professional.
Honorable Mention:
Justice Winslow
Cameron Payne PG Murray State- #14 Thunder
Tyus Jones PG Duke- #24 Timberwolves
Sam Dekker SG Wisconsin- #18 Rockets
Now we will run through some superlatives in a rapid-fire style:
MOST UNDERRATED:
Oliver Hanlan SG Boston College, #42 Utah Jazz. You'll hear more from this kid in his NBA career. That is a guarantee. Hanlan is a steal at pick 42. If you do not believe me, check out this video clip… He accounted for roughly 100% of his team's offense. Exaggeration, but he was basically the only scoring option that BC had all season.
Runner Up:
Montrezl Harrell PF Louisville, #32 Houston Rockets. Harrell is a great energetic player that will transition into a great rotation player/energy guy coming off the bench. Great bounce, great athleticism, and vast experience in big moments. This was a very smart pickup for the Rockets.
Honorable Mention:
Pat Connaughton SF Notre Dame,- #41 Nets
Rakeem Christmas PF Syracuse- #36 Cavaliers
Justin Anderson SF Virginia- #21 Mavericks
Terry Rozier PG Louisville- #16 Celtics
MOST OVERRATED:
Stanley Johnson. This is a tough one. Stanley Johnson was an impressive player at Arizona, but I think that he does not warrant the #8 pick in the draft. He has incredible size (6'6 and a 7'0 wing span). He was not an outstanding shooter in college, but scouts believe he will improve at the next level. Character questions related to his lack of motivation and focus have resulted in questions about his NBA prospects. Winslow is the far superior prospect here; he is much more polished and has real elite skill.
Runner up:
Kelly Oubre SF Kansas #15, Washington Wizards. Promising size and athleticism has led Oubre to be a highly touted prospect in the NBA his entire life. However, poor shooting and an inefficient season at Kansas showed that he is nowhere near a finished product.
Honorable Mention:
Devin Booker SG Kentucky-#13 Suns
Kevon Looney F UCLA- #30 Warriors
Larry Nance Jr.
BEST TRADE:
HORNETS ACQUIRE NICOLAS BATUM FROM BLAZERS FOR NOAH VONLEH AND GERALD HENDERSON. Hornets add an undervalued Batum coming off a rough '14-'15 season in exchange for a possible Aldridge replacement and a back-up point guard. I love this deal for both teams.
Runner Up: Timberwolves get Tyus Jones for picks 31 and 36 (Cedi Osman and Rakeem Christmas). Hometown icon returns to Minnesota and Cavaliers get two decent players in exchange. Both sides win.
WORST TRADE:
Greivis Vasquez traded to Bucks for Norman Powell and a protected future first in 2017. Just not a fan of this deal for either team.
BIGGEST SURPRISE:
Kristaps Porzingis PF/C Sevilla, #4 New York Knicks.
Runner up:
D'Angelo Russell G Ohio State, #2 Lakers. Months leading to draft: Okafor, Okafor, Okafor, Okafor, Okafor, Okafor. Draft night: Russell it is.
Honorable Mention:
Rozier to Celtics.
Nance to Lakers.
BEST STORYLINE:
Satnam Singh C IMG Academy, #52 Mavericks. Congrats to Singh on being the first ever Indian to be drafted into the NBA! An awesome story to watch unfold.
Runner up:
The return of TYUS JONES TO MINNESOTA. Yes I am a homer… But he's back!!!!!
BEST DRESSED:
The most important category in this article…
RONDAE HOLLIS-JEFFERSON. Whoa, look at those pants.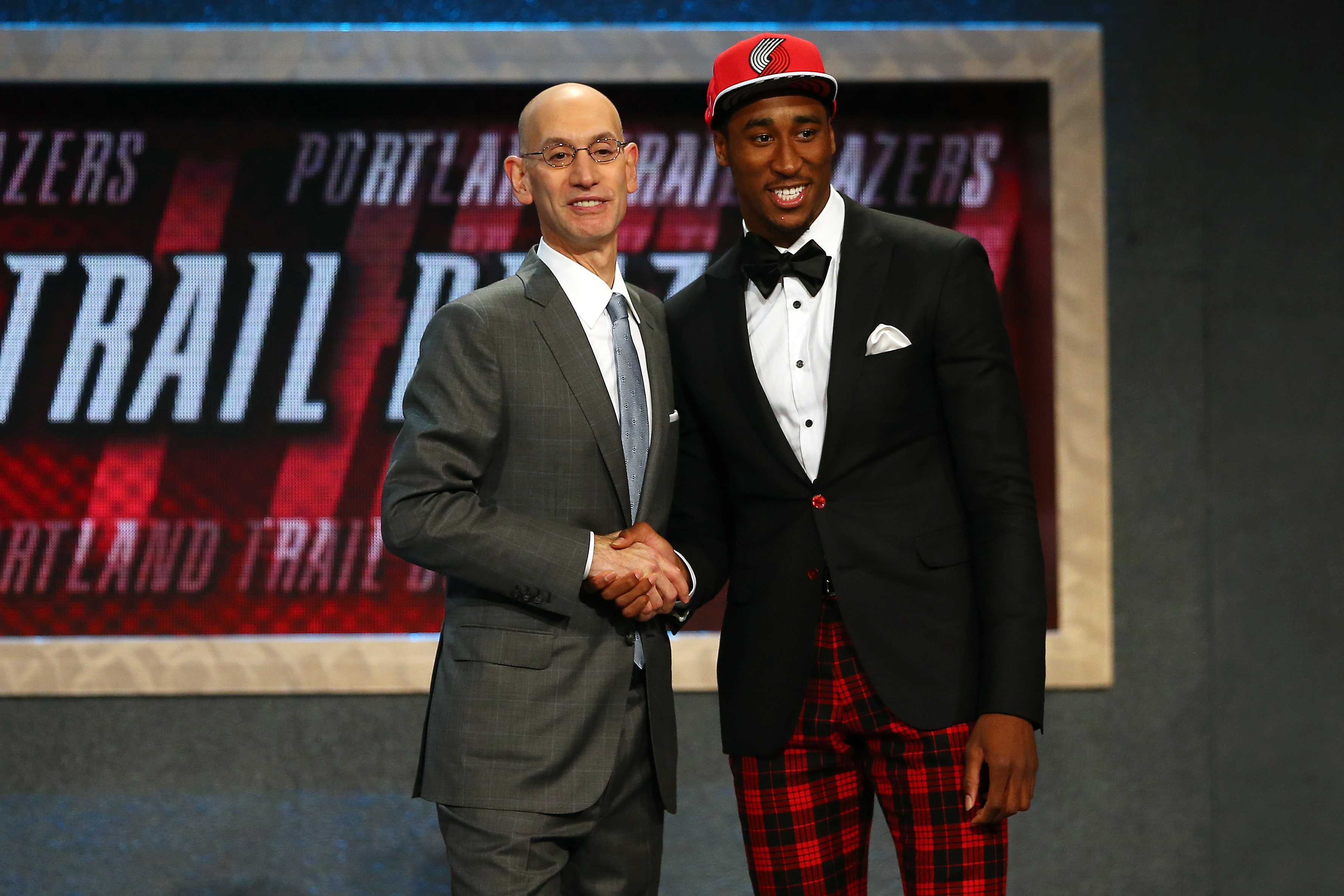 Thank you all for reading. See you soon for the chaos that is the NBA free-agency!
By: Patrick Malin